Advanced Spine And Pain Solutions
Newsletter
From: Dr. Howard Knudsen
A Provo Physical Therapy Clinic and AlterG Owner
Tuesday, March 3, 2011 at 10:30 PM
Walking Speed Predicts How Long You will Live!
Walking Speed Predicts Life Expectancy of Older Adults Baby boomers who keep up the pace as they age are likely to outlive those who slow down
ISSUE 003

A Free Newsletter for the Friends and Patients of:
Dr. Howard Knudsen

GREETINGS!
Thank you for reading the second installment of my newsletter.

When I set out on a quest to find the "perfect strategy" to relieve my patients' pain I found a cure for my persistent back pain. I hope you can, too!

Contents
Photo of the Month:
Redwoods at Muirwoods
Health & Wellness Tip:
Walk to Promote Your Health

What New? Our New Alter G Anti-Gravity Treadmill

Success Story: The AlterG Delivers Success

Thought of the Day: Promoting Exercise by Utilizing the Fun Theory

Bonus: Free Photo For Past and Present Patients

Coupon: AlterG Bucks
We just purchased a new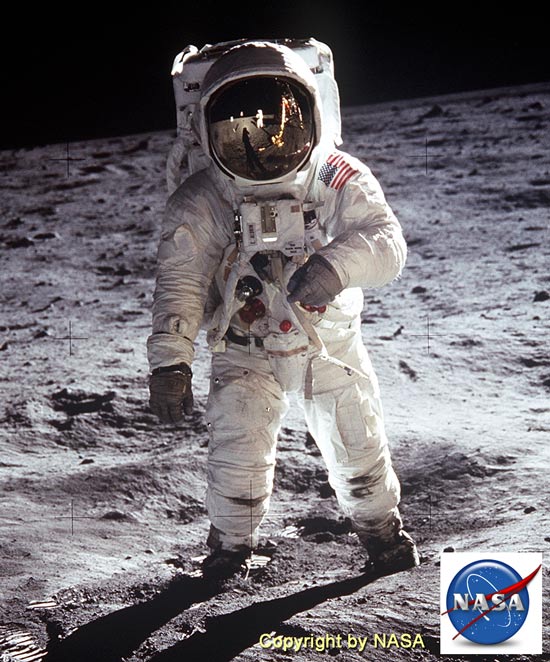 Summary. Research from a NASA scientist in the 1990s uncovered what will revolutionize the way physical therapists perform rehabilitation. Essentially, he found that we can use air pressure to alter a person's body weight while they exercise. It allows you to walk or run with little to no increase in pain.

The AlterG Anti-Gravity Treadmill was developed from NASA technology. It allows you to train or rehabilitate almost weightlessly, like you are walking on the moon.
If you experience pain in the lower back and/or legs while walking in Earth's gravity, then walking on the Moon's surface would likely be pain-free. The Moon's lower gravity would create a lower impact on your joints and less strain on your muscles and fascia.
Imagine taking a trip to the moon for your own moon walk. Do you remember the Apollo 11 moon landing in 1969? I was only a fetus at the time. Watch a video showing the first moon land and moon walk, below.
What is an AlterG and what does it do?
An AlterG is a rehabilitation treadmill that is encased in a pressurized tent. The tent is made of the same material as a rubber river raft with see-through plastic windows.
An air-compressor inflates the tent to create a positive-pressure lifting force on the lower body.
A force plate (that works like a weight scales) is located beneath the treadmill. It measures your body weight so the computer can determine how much positive-pressure is required to create a lifting force to lower your body weight while walking or running on the treadmill.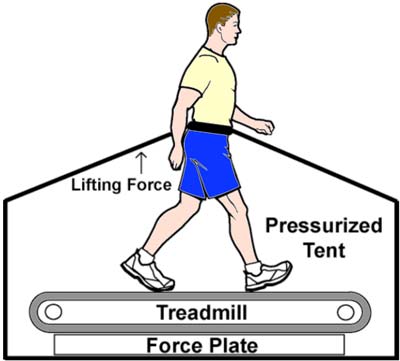 Lower-body positive-pressure treadmill.
Why is an AlterG a perfect rehabilitation device?
The scientific explanation is that the AlterG lowers a patient's Ground Reaction Force (GRF). How does it do this?
The "lifting force" -- created by the pressurized tent -- lowers the GRF... which lowers the strain and compression that gravity places on your joints, fascia, and muscles.
What the heck is GRF?
In physics, and in particular in biomechanics, the GRF is the force exerted by the Earth on a body in contact with it.
The GRF follows Newton's Third Law of Motion, which states:
"For every action, there is an equal and opposite reaction."
In other words, if object A (your body) exerts a force on object B (the earth), then the earth (object B) also exerts an equal and opposite force (the GRF) on your body (object A).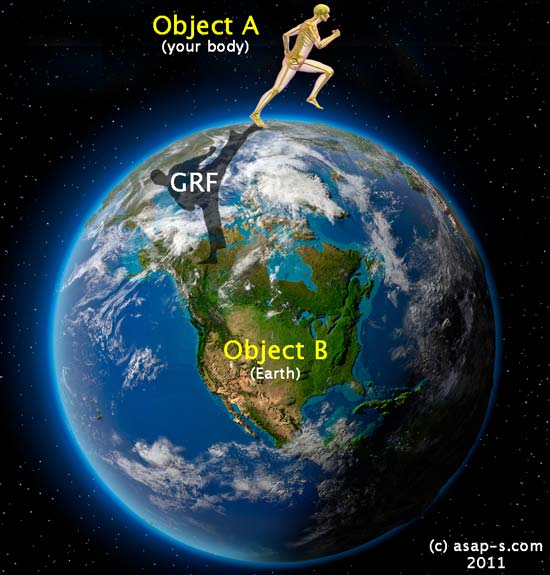 What does this mean in layman's terms?
It means that when your foot strikes the ground... the Earth "kicks" you back. And the impact of that "kick" travels up your leg to your spine.
Some of us can tolerate the "Earth's kick" while others cannot. If you have strained muscles or fascia, or if you have osteoarthritis and inflammation in your joints then running or even walking may be painful.
How much the Earth pushes back depends on how fast we are walking or running and how much we weigh.
When walking or running, our muscles generate the forces that push against the ground and the GRF propels us forward. Greater speed (velocity) requires greater push-off force, which creates greater GRF (which means the earth hits you back harder).
The AlterG treadmill allows you to promote health and wellness while you:
1) burn calories by using metabolic power
2) work your heart to keep it healthy and strong
3) work your lungs to cleanse your blood
4) get your blood flowing to all of your body's cells
But most importantly, the AlterG allows you to manipulate the GRF (the Earth's kick that causes back and leg pain) to extremely low levels, so you can exercise with minimal to zero pain.
Guess what? This means YOU can tolerate exercise again!
Who can AlterG help?
Pain, Orthopedic and Sports Medicine
Rehabilitation Patients
We can select from 20% of body weight to 100% in 1% increments, so patients can specify exactly where exercise becomes pain-free and progress can be easily tracked and charted.
People who want to Lose Weight
Being over-weight can cause repetitive strain on ankle, knee, and hip joints, the sacroiliac joints, and the lumbar facet joints and discs. The AlterG treadmill is perfect for those that need to burn calories to lose weight but are finding it hard to exercise.
Senior Rehabilitation Strengthening and Conditioning (or those who are sedentary)


Exercise at fractional body weights to overcome mobility challenges in senior patients

Promotes cardiovascular and musculoskeletal health in a safe environment

Strengthening and improved coordination of muscles thereby protecting surrounding joints

Builds confidence in senior patients for improved functional capacity

May lower the risk of falling
Watch this short video about the Alter G.:
Study shows promising results for treatment of Low Back and Leg Pain with the AlterG anti-gravity treadmill
The results of a study in the Journal of Orthopedic and Sports Physical Therapy suggest that walking on a anti-gravity treadmill (combined with other physical therapy) for people with low back and/or leg pain holds promise for pain relief and functional improvement.
The AlterG Delivers Success
Here is one example of success with a current patient. I evaluated an 80+ year old patient a few days before I received my Alter G anti-gravity treadmill. I noted that she had a lung capacity problem so I tested her walking capacity on our treadmill.
She could only walk for 45 seconds before her low back pain was bad enough that she asked to stop and sit down. She also reported that pain normally restricted her walking to short distances.
It is likely that her inability to perform aerobic exercise because of back pain had led to diminished lung capacity (I measured it at 50% of normal with a Forced Vital Capacity test).
On her third visit (two days after our new Alter G arrived) I had her try the anti-gravity treadmill. I set her body weight to 60% of normal (this is like losing 46 lbs from her normal weight of 115 lbs), and she was able to walk for 0.25 mile (that's once around a football track) without back pain.
Why is this important?
To heal from chronic pain you must be in a healthy state. To be in a healthy state, your blood chemistry (which is the environment of the cells) must be healthy.
Proper breathing cleanses the blood as oxygen enters in and carbon dioxide (a waste-product of cell metabolism) is exhaled from the lungs.
Diminished lung capacity lowers the oxygen level in your blood (this is called anoxia) which leads to increase pain sensitivity and lactic acid build-up (muscle soreness).
Our goal is to increase this patient's lung capacity to 100% of normal and improve her ability to walk longer distances without lower back pain.
Free photo for past and present patients
Patients: The photos are ready. Please let us know which one you wanted and when you will be by to pick your photo up from our clinic.
Give us a call:
801-310-0851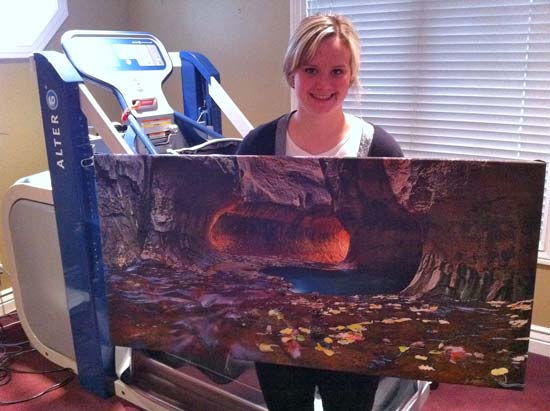 Our employee Callie is displaying the photo that was given away this month to a lucky newsletter subscriber!
Thank You!
P.S. Become a fan on our facebook page.
AlterG Bucks
Be the HERO! ...to your friends, family, or co-workers who are suffering with persistent pain! Tell them about this newsletter and refer them to see Dr. Knudsen.
Print the coupon below for a 10 minute FREE ride on our AlterG Anti-Gravity Treadmill and pass them out (feel free to bring one in for your own test drive).
Thank you in advance for your support.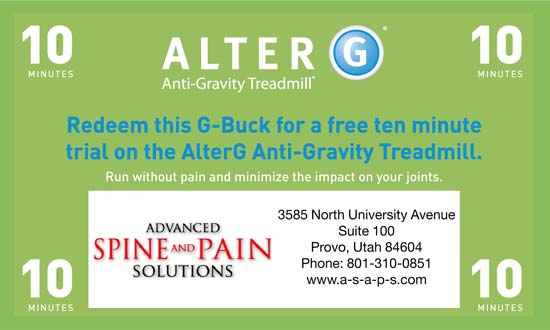 Thank You!