Get Started!
Provo Physical Therapist: How to Get Started!
Utah law does not require a person to receive a referral from a doctor before being seen by a Physical Therapist. All you really need to do is call us to get started on your road to being comfortable in your body again.
Questions?
If you or your doctor have any questions about how to proceed or if you would like to discuss your situation -- please call us at: (801) 310-0851 and ask for Dr. Knudsen, the owner and Physical Therapist.
Location
We are conveniently located in Jamestown Square on University Avenue. Here is a map to Pain Solutions, a Provo physical therapy clinic.
3549 North University Avenue, Suite 100
Provo, Utah 84604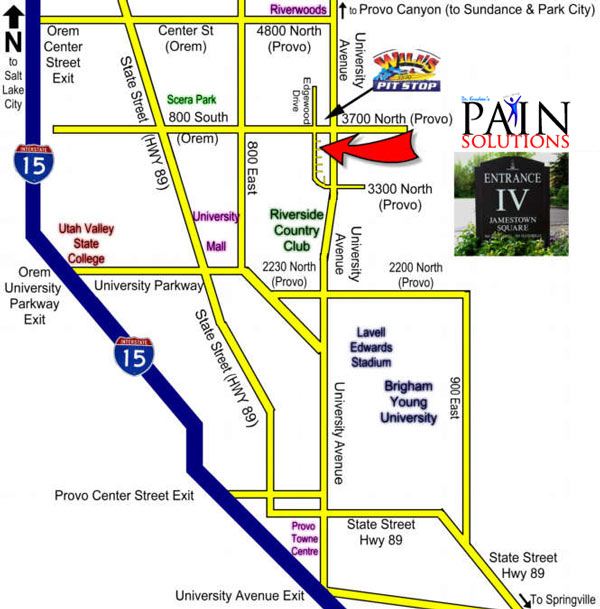 There is no access to Jamestown Square from University Avenue, so you must turn onto the access road.
If you are driving North on University Ave, turn left at 3300 North (this access road curves to the right and becomes 50 East), then turn right at Entrance IV of Jamestown Square.
This is a view of the Walker building. Find a parking place and enter through the front door under the columns. Muscle IQ Physical Therapy is on the first floor in suite 100, to the left of Nexus Paincare at the back of the entry.
If you are driving South on University Avenue, turn right at 3700 North, then turn left at Edgewood drive and left at Entrance IV of Jamestown Square.
Here are some of the cities we serve in the Salt Lake City and Provo area:
Alpine, Alta, American Fork, Benjamin, Bingham, Bonnie, Bountiful, Brighton, Cedar Hills, Cedar Pass, Cottonwood, Draper, Eagle Mountain, Elk Ridge, Highland, Holladay, Kerns, Lehi, Lindon, Magna, Mapleton, Midvale, Murray, Orem, Payson, Pleasant Grove, Provo, Riverton, Salem, Salt Lake City, SLC, Santaquin, Sandy, Saratoga Springs, South Jordan, Spanish Fork, Springville, Sundance, Taylorsville, Timpanogos, Vineyard, West Jordan, West Valley Woodland Hills.
Call 801-310-0851 now
....to set an appointment with Dr. Knudsen.





Provo Physical Therapy Clinic