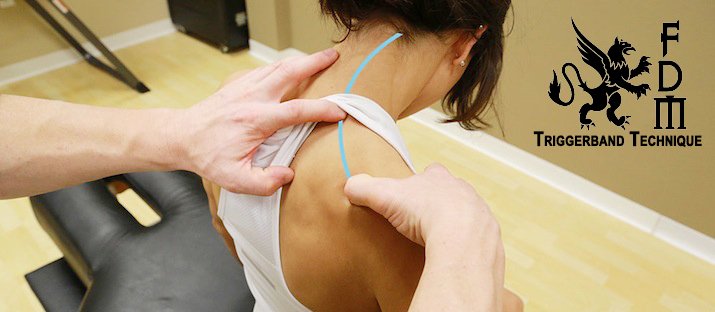 FIND IT and fix it fast!
FDM is presently the most effective manual pain therapy.  By means of body language and pain description the therapist is immediately in the position to pinpoint the problem and help the patient with manual techniques.  FDM is especially suitable for pain within the musculoskeletal system. Now, many "known" therapy-resistant conditions (chronic pain patients) can be successfully treated with FDM.  Due to the quick therapy success, FDM has become very popular among athletes.  Presently FDM is the fastest growing form of therapy in Europe.
The Fascial Distortion Model allows precise and effective treatment of pain found in the musculoskeletal system.  FDM enjoys greater and greater popularity because of the fast and long-term treatment success.  The individualized diagnosis allows a focused and efficient treatment.  The immediate removal of the so called distortion leads to minimal absence from work or sports and reduced regeneration time.  So it`s possible that a specific part of your back pain disappears after one treatment.  This allows us to address the underlying muscle weakness for a long-term fix to your problem.
what is FASCIAL DISTORTION MODEL?
The term "Fascial Distorsion Model (FDM)" is a combination of 3 separate words:
Fascia is connective tissue.  According to the FDM, they are the key to diagnosing and treating a variety of physical ailments.  Today, medical science acknowledges the importance of fascia in the human body, a fact backed up by a growing number of scientific studies into the FDM therapy model.
Distortions are twists, wrinkles, entrapments, deformations or dislocations of fascia.  Each FDM therapy session aims to correct these distortions with specific techniques of manualtherapy.  Once corrected, a considerable or complete reduction of pain will be noticeable to the patient.
FDM is a clinical model. Through the collection of empirical data, Stephen Typaldos, D.O., FDM's creator, developed a model representing the correlation of specific fascial distortions, traditional diagnoses and effective treatment options.  Physicians and physical therapists practicing FDM are utilizing the Fascial Distortion Model in order to arrive at a precise individual diagnosis and to choose a specific treatment.
Dr. Knudsen was introduced to FDM through Matt Booth, PT in Boise, ID.  He was one of the first physical therapist to be trained in the United States.